Relieved and happy that the Royal Exchange reading is over and I did not stumble or stutter during my ten minutes on stage! Sara's took some beautiful, atmospheric photos that will be forthcoming shortly, and Anna Percy has written a lovely piece from the event. I have written my own small stone to contribute to the river. The most vivid part of the event, the printed words I thought were going to mutate before my eyes I'd stared at them so often!
Small Stone:
The paper is much creased and I have printed the poems in size ten, so they are small blocks of text on the page. I must hop from one patch of poetry to the next to get through the set, seven steps. Not very many. I break it down to those seven steps and walk them in a ever quickening circuit. Sean O'Brien tells me afterwards to remember to take a pause after each poem, take a beat, he says. These beats at the time are the space between one breath and the next, they stretch out in the audience's silence and feel like large pauses to negotiate. I asked Louise to write a book title on the blank back of one page. The swooping tails of her y's and g's press against the stand my paper was balanced on. In the opposite corner I have scrawled notes from Sean's reading. A mix of watching a documentary on Africa with a quote from his work: 'The singing of the dead underground.' Fossil lake under a land of great thirst, humans have found you after years of dark alone. And they sent the divers, sent the torches, and stalked the blind golden catfish that swim there, where stone listens to invisible ripples.
David Tait, house poet of the Royal Exchange readings is off to China. I'm sad he will no longer be a presence at the readings, he feels intrinsically part of it to me! But I hope he has an amazing time in his new ventures. He's been kind enough to post some of my poems on the Cadaverine magazine, the poem Egg was the first I read in my set last night.
Thank you so much to everyone who gave me support, either on twitter or in person on the night :D.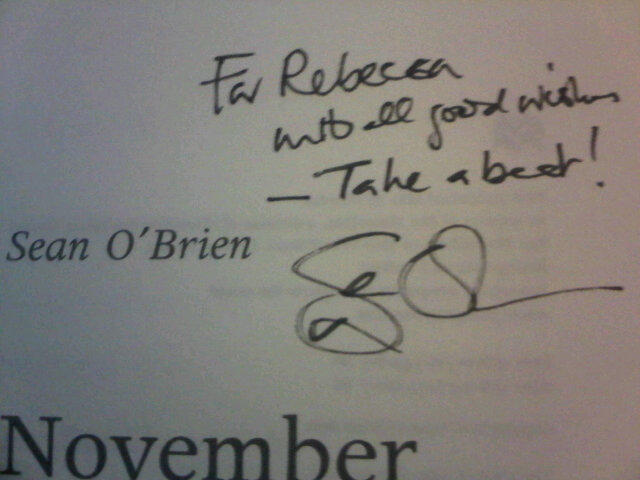 Related articles